Home theater installation
We offer our customers specialised services in Home Theatre, TV Wall Mounting and Digital TV Antennas.
With over 20 years experience in the industry we have the expertise and professional service that allows us to create modern solutions for our customers.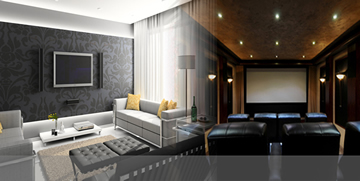 We can supply, deliver products and install equipment to the entire Montreal & Laval area, at affordable prices. Our experienced technicians provide detailed information and training to our customers so that they can confidently enjoy their newly installed home entertainment system.
We  pride ourselves on the quality of services & products that we offer,  at a cost effective price for our customers. We value customer service above all.
Our impressive reputation throughout Laval & Montreal, makes us the obvious choice for the installation of your entertainment system.
No matter what your requirements are, we have the solution.  Our job is to provide you with reliable and cost effective options.